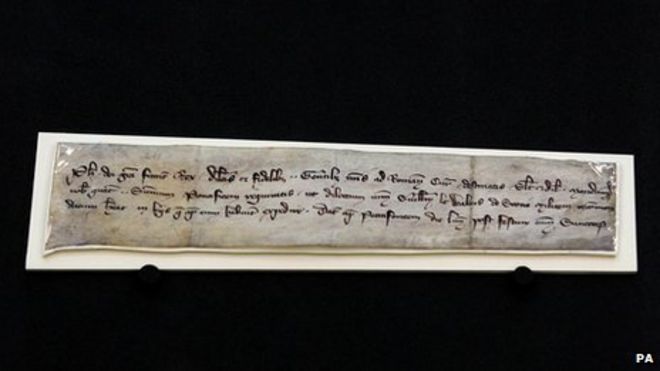 A 700-year-old letter thought to have been in the possession of William Wallace has returned to Scotland.
The fragile document was held in England after it came to light in the Tower of London in the 1830s.
It is now on long-term loan to the National Records of Scotland following an agreement with the National Archives in Kew.
The letter will go on display to the public this summer at the Scottish Parliament in Edinburgh.
The letter, which was from King Philip of France to his officials at the Vatican, mentions Wallace by name.
It will be exhibited alongside the famous Lubeck letter, sent by Wallace shortly after the Battle of Stirling Bridge in 1297.
'Fascinating fragment'
Culture Secretary Fiona Hyslop said: "I am delighted to welcome the Wallace letter back to Scotland.
"It is one of the few surviving artefacts with a direct link to William Wallace and a fascinating fragment of our nation's history.
"To have it here in Scotland, where it can be viewed by the Scottish public, is very significant indeed."
The letter from the French king asks his agents in Rome to help Wallace in business with Pope Boniface VIII.
It also strongly suggests Wallace intended to travel to Rome, although it is not known if he reached his destination.
The paperwork has puzzled historians and aroused speculation about its origins and precise link to Wallace.
Last year, an international team of medieval experts concluded the letter was French, was issued on 7 November, 1300, and was likely to have been in Wallace's possession.
George MacKenzie, head of National Records of Scotland, said: "This document is an enigma.
"It's a letter from the French king to his officials at the Vatican mentioning Wallace, but we don't know what his business was with the Pope.
"What we do know is that the document still fascinates, 700 years after it was written."
Its return to Scotland follows a campaign by the Society of William Wallace.
National Records of Scotland has agreed to borrow the letter from 2012 to 2014, and it will go on display in both years.
Officials are discussing means of allowing the document to be housed in Scotland in the longer term.
The fragile document can only go on display under controlled lighting for a limited period every few years.
Duncan Fenton, of the Society of William Wallace, said: "We have been campaigning for years for this letter to be returned to Scotland and this is a fantastic result – not just for us, but for the Scottish people who will be able to see this document with their own eyes and feel a connection to William Wallace.
"We do not have a lot of tangible links with Wallace as most of the documentation has been destroyed, so to have something that Wallace actually touched is a massive boost for Scotland."
Back in 2009 BBC reports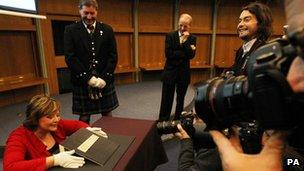 MSP demands Wallace letter to be returned.
A letter carried by William Wallace when he was captured by English forces in 1305 should be returned to Scotland, a Nationalist MSP has claimed.
The document, known as the Safe Conduct, was written by the King of France and was supposed to guarantee Wallace safe passage to visit the Pope.
It is currently held at the National Archives in Surrey.
South of Scotland MSP Christine Grahame said it should be in the National Museum of Scotland in Edinburgh.
The Safe Conduct was in Wallace's possession when he was captured in Robroyston in 1305 – eight years after he had led a Scottish army to victory against English forces at the Battle of Stirling Bridge.
It was written by King Philip IV of France and has been held in England since Wallace was hanged, drawn and quartered on 23 August 1305 after being found guilty of treason. It is currently kept at the National Archives in Surrey.
Ms Grahame has lodged a parliamentary motion calling for the return of the letter, and also lodged a parliamentary question asking if Scottish ministers will make a formal request to have it returned.
"This is a very significant historical document related to Scotland's most iconic and lasting national hero," she said.
"In the year of homecoming it would be fitting to see this document finally returned to Scotland.
"There are very few artefacts around today that we know for certain Wallace handled and held in his possession."
Ms Grahame said it would be "entirely inappropriate that it should languish, forgotten in some closed drawer in Surrey and urge the UK National Archive to pass it to the National Museum of Scotland where it can be properly displayed."
She claimed the document will be "an inspirational boost" for Scots to return for the Homecoming celebrations.
Tory deputy leader Murdo Fraser last year called for the only surviving document issued by Wallace to be returned to Scotland.
The Lubeck Letter was sent by Wallace and Andrew Murray in 1297 to notify the merchants of the German city of Hamburg that Scottish ports were open again for trade. The letter is held in Lubeck.
The Lubeck Letter was sent by Wallace and Andrew Murray in 1297 to the mayors of Lubeck and Hamburg.
It was written following victory at the Battle of Stirling Bridge and informed German merchants that Scots ports were no longer under English control.
A parliamentary motion asking that it be released from Lubeck's National Archives has been lodged.
The motion was lodged by Mid Scotland and Fife MSP Murdo Fraser who believes it is one of the most significant documents in the country's history.
The Conservative politician said: "The letter is a link to a pivotal point in Scotland's history and gives an insight into William Wallace as the statesman and politician.
"William Wallace is rightly remembered as a hero to Scots for his great victories on the battlefield but this letter reveals another side to him which is not always mentioned in the history books."
The letter has previously been lent to the Scottish Parliament for an exhibition and Mr Fraser wants ministers to begin a dialogue with the City of Lubeck's National Archives about having it on "permanent loan".
Mr Fraser said: "I understand that Scotland has no claim for ownership of the item but I hope that goodwill and co-operation could result in the letter returning to Scotland.
"I would welcome the day when Scots are able to see the Lubeck Letter and the emblem of William Wallace in their country and this would be a gift for which Scotland would be forever indebted to the City of Lubeck."
If the document, which is thought to carry the only known impression of Wallace's own seal, is returned to Scotland, Mr Fraser would like to see it stored in the Wallace Monument, near Stirling.